The cherry blossoms are already in bloom in Tokyo, according to Japan Guide, due to unseasonably warm weather. I lived outside Fukuoka, Japan for three years, and the excitement around cherry blossom season was one of the most memorable parts of my time there. Starting in March, the weather forecast would include a "Cherry Blossom Front," tracking the blooming as it moved north from Okinawa. Once the trees opened, there were parties in public parks, and people would spread out tarps where they'd gather, eat, and drink. It kind of seemed to me like the Purim festival, when it's considered a good deed to get drunk. And if you boozed yourself into a state of collapse, at least you could then look up into these beautiful clouds of pink. Here's a photo I took of a tree near the high school where I taught English: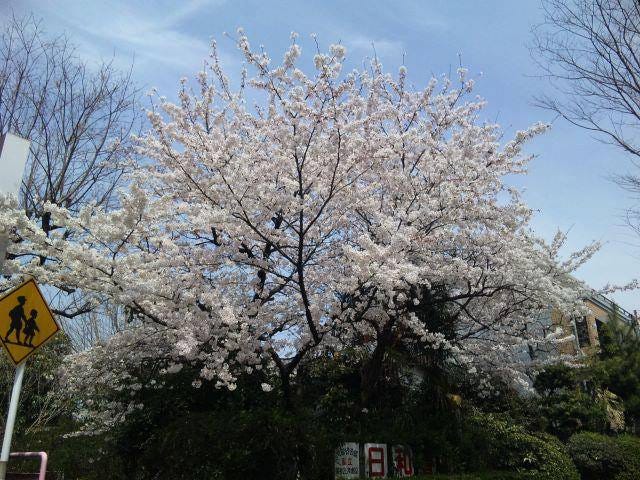 And here's a photo of a typical hanami (flower viewing) celebration near Kitakyushu Castle:
Since I'm feeling nostalgic for Japan and cherry blossom season, I thought I'd feature two Japanese writers who refer to the trees in their work for today's issue.
Poem
Rather than one poem, here are several haiku:
What a strange thing!
to be alive
beneath cherry blossoms.
In this world
we walk on the roof of hell,
gazing at flowers.
The moon and the flowers,
forty-nine years,
walking around, wasting time.
New Year's Day—
everything is in blossom!
I feel about average.
On his fiftieth birthday:
From now on,
it's all clear profit,
every sky.
—Kobayashi Issa (translated by Robert Hass)
Who is this guy?
Kobayashi Issa, born in 1763 in what is now Nagano Prefecture, was a poet and lay Buddhist priest. He wrote thousands of haiku, many of which stand out for their sense of humor and justice. Hass writes that Issa (his chosen name, which means "a cup of tea") is "quite unlike anyone else, the laughter cosmic, the sense of pain intense, as if the accuracy and openness of his observation left him with a thinness of the mind's skin, with no defenses against the suffering in the world."
Story
Excerpt:
The first cherry blossoms were coming out by the time my daughter, made ill by exhaustion after the move, was well enough to start back at daycare. I taught her 'Sakura, Sakura' along with 'The Little Bleating Goat' and the song about the crow. Our voices boomed inside the bathroom, but it felt even better to belt the songs out on the rooftop. I was impressed, I admit, to discover I had such a fine voice. I bought a supply of nursery rhyme books and sang my way through them between bursts of applause from my daughter. In the back of my mind I was listening to the words I'd heard on the tape: Give up this idle pondering.
In tears of excitement, my daughter showered me with 'Encores' and 'Bravos' she'd picked up from a picture book.
I didn't know my husband's new address. All I'd been given was the phone number of the restaurant where he was now working part-time. Someone had told me that his new woman friend was the owner, and that she was old enough to be his mother. She might be just what he needed, I thought, after he'd led a group of his friends in trying to start a small theatre company and ended with nothing to show for it but debts.
He hadn't been pleased at my deciding on a new place by myself, and had moved out before me, still aggrieved. I no longer had any intention of letting him into my apartment.
He would come, though. While afraid of that moment, at the same time I was beginning to be aware that I couldn't turn his way once again. And this after I'd been so unwilling to break up in the first place. I was puzzled by how I had changed. But I could no longer go back.
—from "Territory of Light" by Yuko Tsushima. Read more here.
Who is this lady?
Born in Tokyo in 1947, Tsushima is considered "one of the most important Japanese writers of her generation," per the New York Times. She wrote both short stories and novels; Territory of Light, first published as a series of stories in a Japanese literary magazine from 1978 to 1979, was released as novel in the United States last year. It's based on her experiences as a single mother. Tsushima once said, "I write fiction, but I experience the fiction I write. In that sense, they are not fiction anymore, but reality."
Note
The naming convention in Japanese is usually family name first, but here I've followed the way each of these writers has been published in English.
Prompt
Write a haiku (or several!) Don't worry so much about the 5-7-5 syllable pattern, unless you really want to stick to that, but do try to keep your haiku to three lines, and remember that traditionally haiku reference nature and/or the seasons.
---
Alanna Schubach is a fiction writer, freelance journalist, and teacher. Follow her on Twitter @AlannaSchubach and read her work at alannaschubach.com. Send questions, recommendations for future newsletters, and the results of writing prompts (if you're so inclined) to info@alannaschubach.com