OK, let me come right out of the gate here and say today's poem and story aren't necessarily going to make you scream with laughter. (Just want to manage expectations.) But they do have plenty of wit and bite to them. I was inspired by the latest issue of the Paris Review's "Art of Distance" series, whose theme is Humor. Seems there's a need for levity right now?
The issue's intro refers to something T.C. Boyle said about how the art of writing funny hinges upon unsettling the reader, leaving it unclear whether they are in the realm of comedy or tragedy or both. I think today's poem and story both have this unsettling quality. In the poem, the narrator hopes to make a deal with the tarantulas that fall into his pool at night, be rewarded for "not loving the death of ugly," a kind of magical thinking that's funny in its irrationality (and familiarity). In the story, actually the first chapter of a novel, a stern 14-year-old girl sets out to avenge her father's death with seemingly no inkling or concern for how absurd this appears to others. Like the speaker in the poem rescuing spiders, her determination and faith in her mission is funny and poignant.
Also, shoutout to Devin Kelly, a great poet in his own right, for the poem recommendation. Just a reminder you can always email me with your suggestions for future poems and stories to be featured here!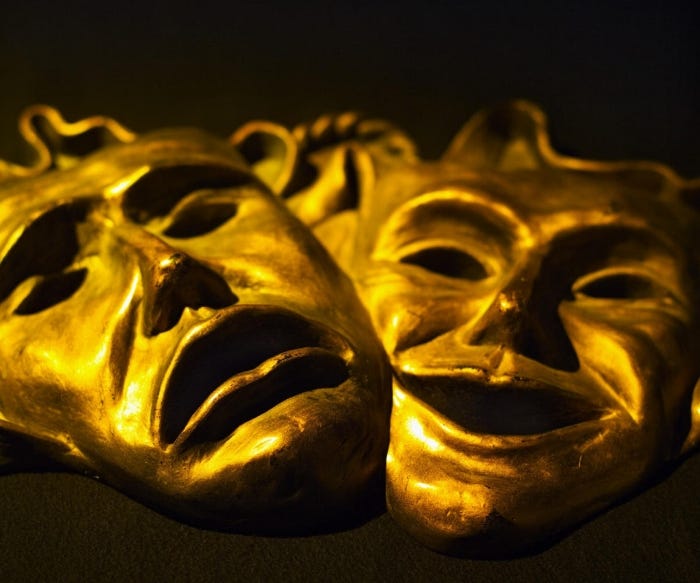 Poem
Tarantulas on the Lifebuoy
For some semitropical reason
when the rains fall
relentlessly they fall

into swimming pools, these otherwise
bright and scary
arachnids. They can swim
a little, but not for long

and they can't climb the ladder out.
They usually drown—but
if you want their favor,
if you believe there is justice,
a reward for not loving

the death of ugly
and even dangerous (the eel, hog snake,
rats) creatures, if

you believe these things, then
you would leave a lifebuoy
or two in your swimming pool at night.

And in the morning
you would haul ashore
the huddled, hairy survivors

and escort them
back to the bush, and know,
be assured that at least these saved,
as individuals, would not turn up

again someday
in your hat, drawer,
or the tangled underworld

of your socks, and that even—
when your belief in justice
merges with your belief in dreams—
they may tell the others

in a sign language
four times as subtle
and complicated as man's

that you are good,
that you love them,
that you would save them again.
—Thomas Lux
Who is this guy?
Born in Massachusetts in 1946, Thomas Lux grew up in a working class family. He attended Emerson College and the University of Iowa, and began publishing poetry in the 70s. Today there are over 20 collections and chapbooks to his name. Lux taught poetry at a number of universities, including Sarah Lawrence College, before his death in 2017. Stanley Kunitz described him as "his own kind of poet, unlike any of the fashions of his time." Lux himself said, ""I like to make the reader laugh—and then steal that laugh, right out of the throat." He also had a great head of hair.
Story
True Grit (Excerpt of the first chapter)
People do not give it credence that a fourteen-year-old girl could leave home and go off in the wintertime to avenge her father's blood but it did not seem so strange then, although I will say it did not happen every day. I was just fourteen years of age when a coward going by the name of Tom Chaney shot my father down in Fort Smith, Arkansas, and robbed him of his life and his horse and $150 in cash money plus two California gold pieces that he carried in his trouser band.
Here is what happened. We had clear title to 480 acres of good bottom land on the south bank of the Arkansas River not far from Dardanelle in Yell County, Arkansas. Tome Chaney was a tenant but working for hire and not on shares. He turned up one day hungry and riding a gray horse that had a filthy blanket on his back and a rope halter instead of a bridle. Papa took pity on the fellow and gave him a job and a place to live. It was a cotton house made over into a little cabin. It had a good roof.
Tom Chaney said he was from Louisiana. He was a short man with cruel features. I will tell more about his face later. He carried a Henry rifle. He was a bachelor about twenty-five years of age.
In November when the last of the cotton was sold Papa took it in his head to go to Fort Smith and buy some ponies. He had heard that a stock trader there named Colonel Stonehill had bought a large parcel of cow ponies from Texas drovers on their way to Kansas and was now stuck with them. He was getting shed of them at bargain rates as he did not want to feed them over the winter. People in Arkansas did not think much of Texas mustang ponies. They were little and mean. They had never had anything but grass to eat and did not weigh over eight hundred pounds.
Papa had an idea they would make good deer-hunting ponies, being hardy and small and able to keep up with the dogs through the brush. He thought he would buy a small string of them and if things worked out he would breed and sell them for that purpose. His head was full of schemes. Anyway, it would be cheap enough investment to start with, and we had a patch of winter oats and plenty of hay to see the ponies through till spring when they could graze in our big north pasture and feed on greener and juicer clover than they ever saw in the "Lone Star State." As I recollect, shelled corn was something under fifteen cents a bushel then.
Papa intended for Tom Chaney to stay and look after things on the place while he was gone. But Chaney set us a fuss to go and after a time he got the best of Papa's good nature. If Papa has a failing it was his kindly disposition. People would use him. I did not get my mean streak from him. Frank Ross was the gentlest, most honorable man who ever lived. He has a common-school education. He was a Cumberland Presbyterian and a Mason and he fought with determination at the battle of Elkhorn Tavern but was not wounded in that "scrap" as Lucille Biggers Langford states in her Yell County Yesterdays. I think I am in a position to know the facts. He was hurt in the terrible fight at Chickamauga up in the state of Tennessee and came near to dying on the way home from want of proper care.
Before Papa left for Fort Smith he arranged for a colored man named Yarnell Poindexter to feed the stock and look in on Mama and us every day. Yarnell and his family lived just below us on some land he rented from the bank. He was born of free parents in Illinois but a man named Bloodworth kidnapped him in Missouri and brought him down to Arkansas just before the war. Yarnell was a good man, thrifty and industrious, and he later became a prosperous house painter in Memphis, Tennessee. We exchanged letters every Christmas until he passed away in the flu epidemic of 1918. To this day I have never met anybody else named Yarnell, white or black. I attended the funeral and visited in Memphis with my brother, Little Frank, and his family.
Instead of going to Fort Smith by steamboat or train, Papa decided he would go on horseback and walk the ponies back all tied together. Not only would it be cheaper but it would be a pleasant outing for him and a good ride. Nobody loved to gad about on a prancing steed more than Papa. I have never been very fond of horses myself although I believe I was accounted a good enough rider in my youth. I never was afraid of animals. I remember once I rode a mean goat through a plum thicket on a dare.
—Charles Portis (Read the rest here)
Who is this guy?
Charles Portis, born in Arkansas in 1933, got his start as a newspaper reporter and wrote for the New York Herald Tribune. He covered the civil rights movement and later became bureau chief of the London office before moving back to Arkansas to write fiction. True Grit was his second novel, a bestseller twice adapted to film. He published three more novels after that; a common theme is eccentric characters on absurd missions who relate their experiences with utterly straight faces. Roy Blount Jr. said that Portis "could be Cormac McCarthy if he wanted to, but he'd rather be funny." He died in February in Little Rock.
Prompt
I don't find that the adage "comedy is tragedy plus time" is always true. I can think of plenty of events both historical and personal that will probably never strike me as hilarious. That said—think of something you've experienced to which this saying applies, something you found awful when it happened but has, with time, become funny to you, and write about it.
---
Alanna Schubach is a fiction writer, freelance journalist, and teacher. Follow her on Twitter @AlannaSchubach and read her work at alannaschubach.com. Send questions, recommendations for future newsletters, and the results of writing prompts (if you're so inclined) to info@alannaschubach.com